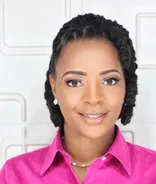 My name is Renet'e Washington. My career spans 17 years in the Social and Behavioral fields. My experience working in this field has taught me that most people want to thrive and do well; however, they do not always have the tools needed to do so. As a Clinician, my passion is to inform, inspire, and increase an individual's self-awareness by creating an individualized plan that foster's positive personal effectiveness.
I became a therapist to assist clients with uncovering the core of their concerns/issues. I partner with the client to create problem solving techniques and coping skills that can be utilized to address those concerns/issues.
It is my belief that anyone can benefit from receiving individualized care that can increase self-esteem, decrease stress factors, and improve quality of life.
If you are ready to nurture positive changes in your life, contact me!
Phallon Foxworth is an Associate Professional Counselor in the state of Georgia. She earned her Bachelor's in Psychology from Spelman College and her Master's in Mental Health Counseling and Behavioral Medicine from Boston University School of Medicine. She has experience in conducting individual and group therapy and has worked in various settings, including correctional facilities, partial hospitalization programs, private practice, and community mental health agencies.
Phallon has supported clients struggling with anxiety, anger, depression, life adjustments, trauma, and additional adversities. Using an integrated approach of Cognitive Behavioral Therapy, Solution-Focused, Person-Centered Therapy, and Eye Movement Desensitization Reprocessing Therapy (EMDR), she emphasizes the importance of making the therapeutic space one without pressure or fear of judgment. You will learn new skills and develop further insights into who you are becoming, not continuing to live a life dictated by who others have told you to be. You will have a tool kit of coping strategies, solutions, and activities that you can engage in to support your growth. Additionally, she believes in having a safe space to explore yourself, challenge ideals, and be your authentic self. As a result of this, you will notice a significant increase in daily functioning. I relish the opportunity to be a part of your therapeutic team.

---
Kenya Jones enjoys working with women experiencing challenges with depression, anxiety, anger issues, and interpersonal relationships. Kenya has experience working with adults of all ages in community mental health settings. She is a LGBTQ+ affirming therapist with a passion for working with clients exploring gender identity, romantic relationships, and family dynamics. Additionally, she relishes working with artists and musicians as the need of support for those in the creative industries is increasing.

She utilizes a combination of therapeutic techniques and interventions including Cognitive Behavioral Therapy, Coaching, Motivational Interviewing, Narrative Therapy, and Solution-focused approaches.
We can work together to process your emotions and improve how you connect with others by resolving internal conflicts. Resolving internal conflict can lead to experiencing your full potential. Kenya is excited to partner with you on this journey.
---